SPECIAL OFFERS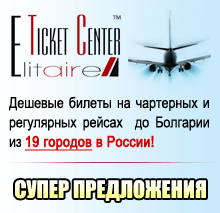 ABOUT BULGARIA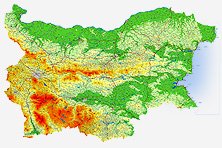 Bulgaria is a beautiful country that is gaining popularity with Western Europeans.
SUNNY BEACH MAP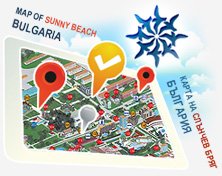 WEATHER REPORT


HIll Top offers for accommodation тhree bedroom villas - separate kitchen, living room with extendable sofa bed, three bedrooms, bathroom with tub or shower cubical, suitable for accommodating up to 8 people.

The complex offers 2 restaurants, bar, cafeteria, 4 swimming pools, large water slide, supermarket, shops, fitness club, sauna, exchange office, playgrounds for children, tennis court, mini golf, football field, beauty center, medical center, Internet club, safety boxes, guarded parking lot. With their location and opportunity for a valuable holiday, Imperial Fort attracts mainly families with children, elderly couples and romantic young people.

Karolina offers extra services for pleasant holiday – spa and wellness center, fitness, sauna, lobby bar, wi-fi in public areas, parking, internet café, pool-bar, children's playground, shops, 24hours security. Both of the restaurants certainly win the customers confidence with exquisite meals and good service.

Laguna is situated in the north-west part of Sunny Beach, 400 meters to the beach and 1200 meters to the very center. Public transport is just a couple of minutes away, providing regular buses to Old town of Nessebar, St. Vlas or resort centre. Even not far away from the center of Sunny beach, the area around Laguna is preferred from many guest for its easy access to the most visited and well known attractions of the resort and well developed infrastructure.

The unique location ensures the guests stay an exceptional combination of sea vacation and same time breathtaking views to Sunny beach and Old Nessebar. Lighthouse is a modern complex in Mediterranean style. The architecture helps to create a harmony between the beautiful nature and sunny sea vacation.

The complex is situated three km north from St.Vlas on the road between Sunny beach and Elenite. Just at the very sea line, at the foot of small Balkan height, but same time close to the famous resorts, the guests of Marina Fort will enjoy a quietness and privacy.

Messambria Fort Beach is situated at the foot of the Balkan mountain and at the same time at a quiet southern bay of the Black sea. You can spend your time sunbathing, swimming in the crystal sea waters, or walk in the pine forest. The children will love to spend their time in the pool and the children playground. In addition the stillness of the nights makes the complex perfect place for recreation.